ID7 Card Personalization Printer
ID7 is a desktop laser personalization system for back office and bureau mid volume card issuance, designed to ensure quality, performance and reliability in Government and Financial environment.
ID7 upgrades the best-selling ID5 product line with enhanced transport, native dual feeding and multichip options, to position at the top of the desktop solutions segment.
Still respecting compact footprint and volume, ID7 features an up to 30W laser and can be configured with vision system registration, magstripe encoding and up to 3 high yield chip encoding stations. Single feeder is standard, the second one is a field upgradable option.
The "ID7X" version is dedicated to financial applications and metal cards.
Card Input feeder
Feeding automatic single or dual, all secured by mechanical locks.
Vision System
The integrated vision tools allow pre-personalization product inspection, offset registration of laser engraving data, personalization verification by performing OCR/OCV checks.
C-CL Encoder
The system enables loading of personal data into the integrated electronic contact or contactless chip. The unit verifies whether data is applied correctly. Rejects and cards with malfunctioning chips are sent to the reject bin.
Magnetic Stripe
In line Magnetic stripe reader can read/write 3 Track Magstripe per ISO 7810, 7811.
Laser Modules
All laser systems allow front and rear engraving of photos, data, barcodes and graphics elements in non-tactile, embossed or indented modes.
Vision Quality control unit
Camera cross check all applied visual data and features with OCR and OCV functions.
Card output stacker
All card stackers ensure that the output is kept in the proper sequence. Optional double output stacker also available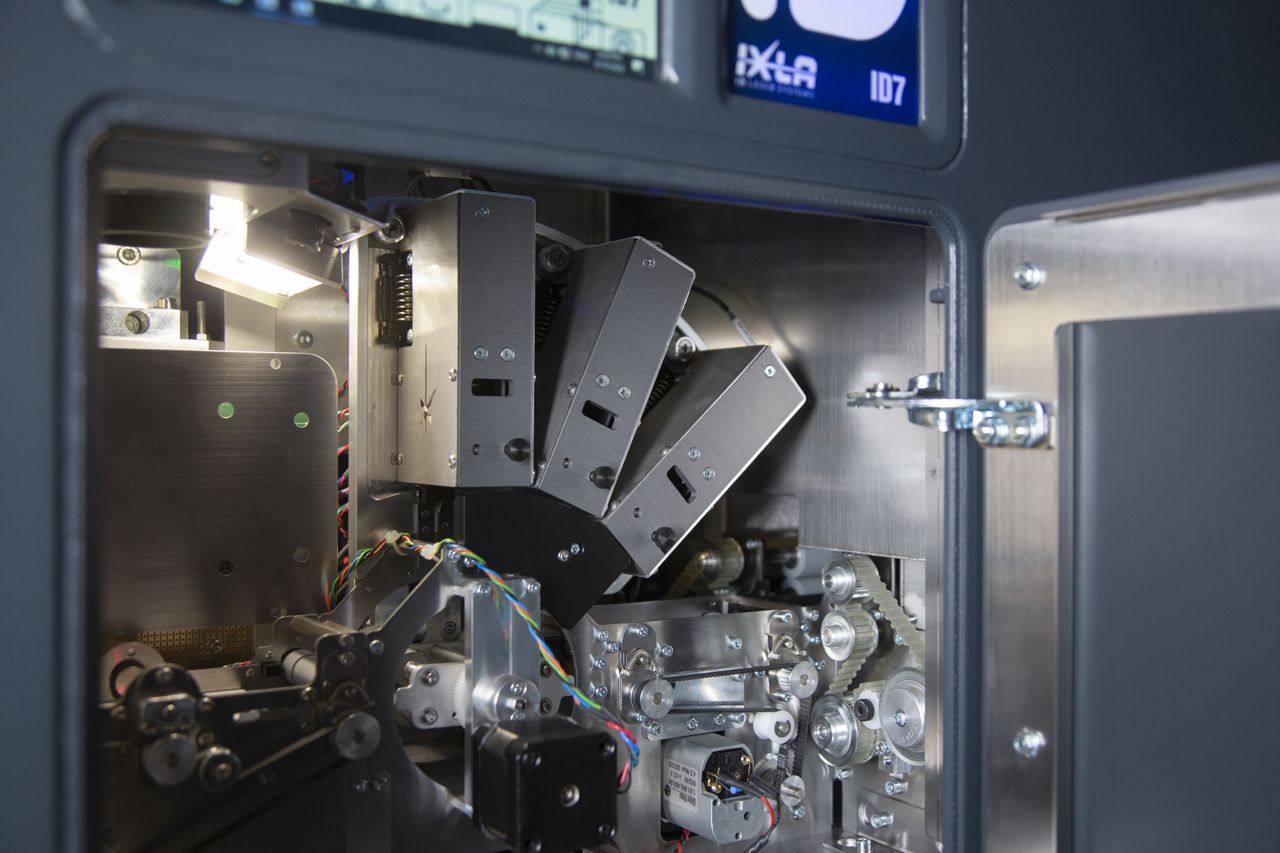 Laser Type (N° of lasers)
Card types ISO7810
Card Hoppers
2nd Card hopper
Card Output stacker
.
Print Mode
.
XY Offset registration
C-CL encoder
Magnetic stripe R/W
Throughput (cph)
Vacuum system
OCR barcode reader
CLI-MLI
Software
.
Dimensions (D x W x H)
Weight
ID7
DPSS or Fiber Laser up to 30W
PC/PVC/PET/METAL
2 x 300 Cards
Yes
250 Cards
(optional dual output hopper)
High performance
Laser
Yes
Multiple up to 3
Yes
250
Inlcuded / External
Yes
Yes
AIDA
Machine & Perso controller
58 x 46 x h60
74